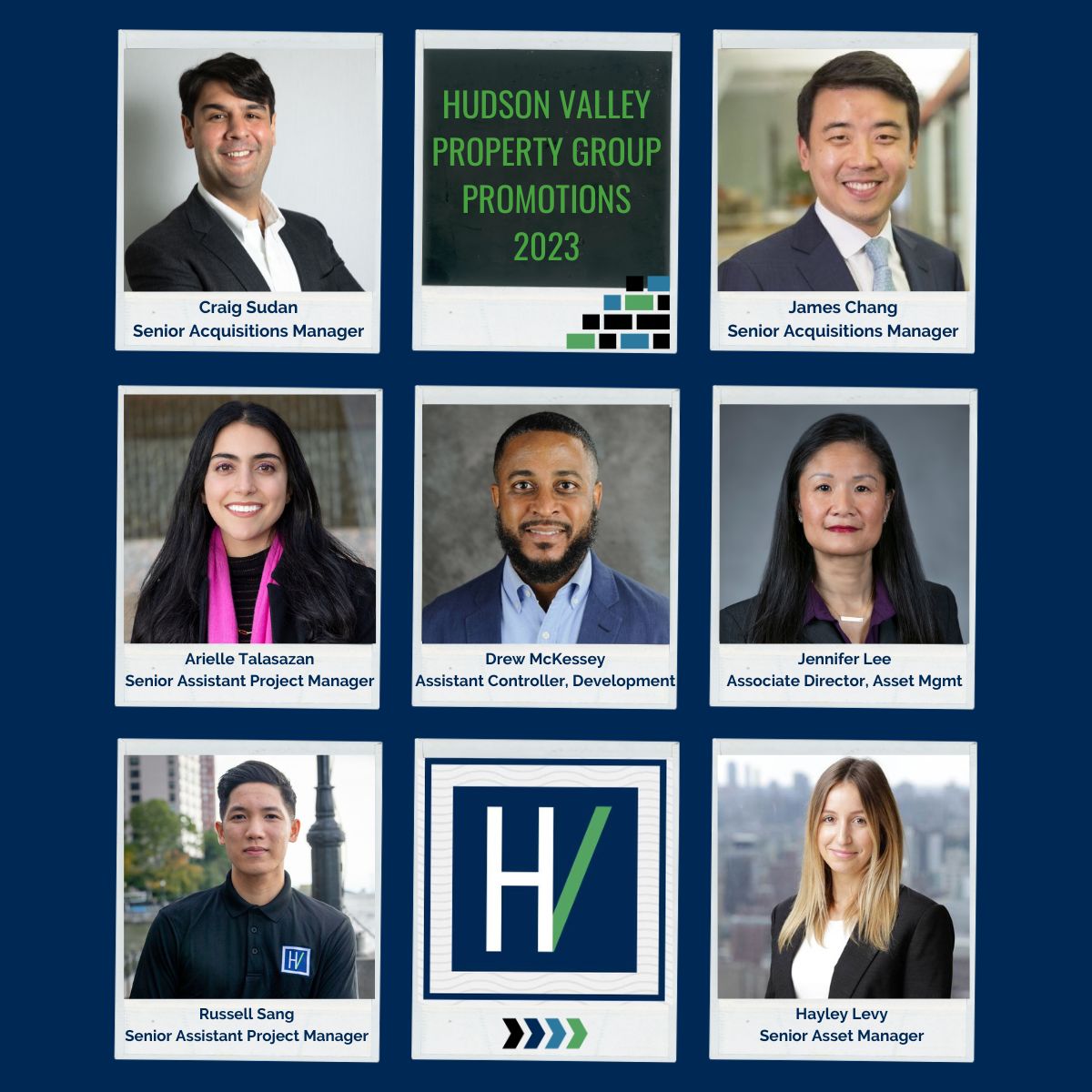 June 2023 – New York, NY – Promotions include team members in asset management, acquisitions, design and construction and finance
Hudson Valley Property Group (HVPG), a leading, national affordable housing preservation company, today announced the promotion of seven individuals across its various teams, effective immediately. The promoted team members include Jennifer Lee, Hayley Levy, James Chang, Craig Sudan, Russell Sang, Arielle Talasazan and Drew McKessey.
"Our firm is lucky to be comprised of so many talented individuals that share our common vision of delivering a better standard of living for Americans who rely on affordable housing in the U.S.," said Jason Bordainick, Managing Partner and Co-Founder of HVPG. "Each of these individuals has made significant contributions to the firm and moved us closer to that vision.  We are proud today to recognize them for everything they do."
About the Promoted Team Members
In HVPG's Asset Management team, Jennifer Lee has been promoted to Associate Director. With 20+ years of real estate asset management experience across various asset classes, in her new role Ms. Lee will focus on financial and operational oversight of HVPG's stabilized portfolio and will work closely with HVPG's asset and portfolio managers as well as third party property management companies. She received her bachelor's degree in economics from the Wharton School at University of Pennsylvania and her MBA from Haas School of Business at UC Berkely.
Hayley Levy, also within HVPG's Asset Management team, has been promoted to Senior Asset Manager. In her new role she will handle oversight of HVPG's pre-stabilized assets, working on HVPG's new projects starting at due diligence from the lens of asset management through transition into HVPG's portfolio. She will work closely with HVPG's asset and portfolio managers, HVPG acquisitions team as well as agency partners and third-party property companies. She received her bachelor's degree from the University of Wisconsin-Madison.
In HVPG's Acquisitions team, Craig Sudan and James Chang have both been promoted to Senior Acquisitions Manager. In this role, they will lead complex HVPG acquisitions, including tax credit projects, large portfolios transactions and will liaise with HVPG's various internal teams. They will also work closely with the firm's debt financing partners, equity co-investors, sellers, agency partners and local municipalities. Mr. Sudan received his bachelor's degree from Cornell University and Mr. Chang received his bachelor's degree in economics and master's degree in international economics and finance from Brandeis University.
Within HVPG's Design and Construction team, Arielle Talasazan and Russell Sang have both been promoted to Senior Assistant Project Manager. In this role, they will lead various components of HVPG renovation projects from initial physical diligence and vendor selection, through project planning and active construction. They will liaise general contractors, architects ,relocation specialists and onsite teams, and focus on executing a variety of sustainability and green improvement initiatives. Mrs. Talasazan received her bachelor's degree in civil engineering from Cooper Union while Mr. Sang received his bachelor's in construction management from Drexel University.
In HVPG's Accounting and Finance team, Drew McKessey has been promoted to Assistant Controller of Development Accounting and will oversee property-level development accounting and all property financial and tax reporting across HVPG's portfolio. With 23+ years of development and construction accounting experience, he will work closely with the HVPG internal team as well as the firm's lenders, tax credit investors, general contractors and external accounting and legal teams. He received his bachelor's degree in finance from Florida State University.