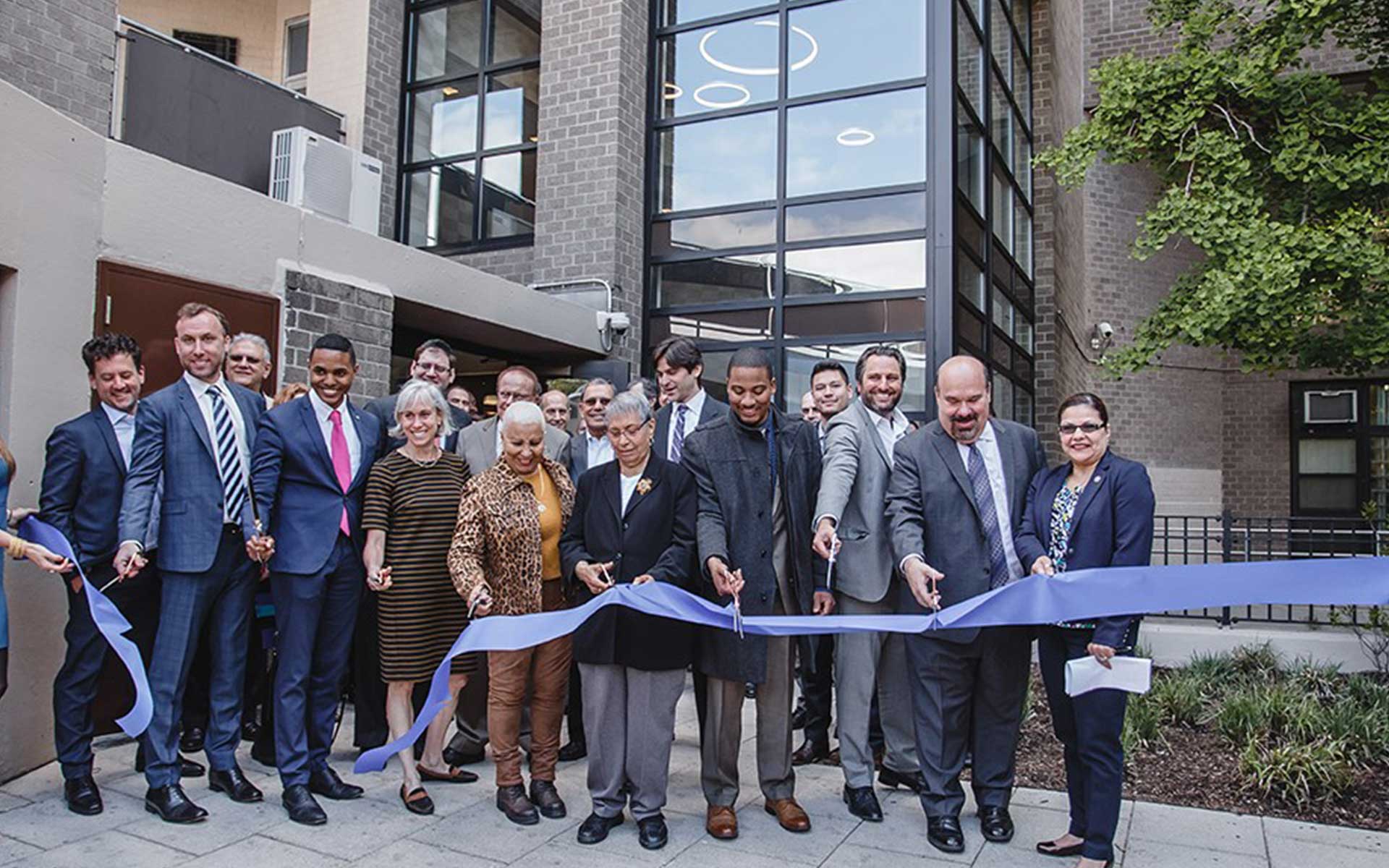 May 12, 2017 – Hudson Valley Property Group (HVPG), Phoenix Realty Group (PRG), and Belveron Partners are pleased to announce the completion of the $14 million renovation project for Keith Plaza and Kelly Towers, located in the Bronx, New York. Councilman of the 15th District, Ritchie Torres, HDC Chief Operating Officer & General Counsel, Richard Froehlich, Assistant Commissioner, Division of Housing Supervision, Julie Walpert, and HUD Deputy Regional Administrator of New York and New Jersey, Mirza Orriols,  joined the development team at the ribbon cutting ceremony on Friday, May 12, 2017 at 11am.
"The extensive rehabilitation and preservation of more than 600 units of housing at Keith Plaza and Kelly Towers demonstrates the successful public and private partnership needed to protect the affordability and quality of our critical Mitchell-Lama housing stock," said HDC President, Eric Enderlin.  "I would like to acknowledge and thank our many partners at HUD, HPD, Hudson Valley, Phoenix Realty Group, and Belveron Partners for all their hard work to preserve this vital affordable housing for The Bronx and New York City."
"Our preservation work is safeguarding the affordability of homes and neighborhoods, and ensuring the quality of our city's critical infrastructure – housing – for generations to come," said HPD Commissioner Maria Torres-Springer.  "Preserving the remaining stock of Mitchell-Lama housing is an important component of the housing plan, and this investment is paying off at developments like Keith Plaza and Kelly Towers.  HPD thanks HDC, Hudson Valley Property Group, and Phoenix Realty Group for bringing much-needed improvements and the security of extended affordability to more than 600 families."
The acquisition, preservation and renovation of Keith Plaza and Kelly Towers provided a unique and innovative financing solution to prevent the loss of 613 units of workforce and affordable housing from New York City's housing stock. Keith Plaza is one of the early preservation projects in the nation utilizing the Rental Assistance Demonstration II (RAD II) program, which included the issuance of a new 20-year, Section 8 Project-Based Rental Assistance (PBRA) contract.
Both properties were built in 1975 under the Mitchell Lama Housing Program restricted to 125% AMI rents.  Mitchell Lama workforce housing properties are some of the most at-risk affordable housing properties in New York City. As mortgages mature on these properties, many owners elect to make them market rate or to sell to a market rate developer. The preservation of Keith and Kelly ensures that these properties will remain quality, affordable housing in the Bronx community for decades to come.
"These important preservation projects will ensure that working class families and retired seniors who reside here have a quality, affordable place to call home for years to come. We plan to follow the City's lead and continue to work to preserve affordable housing throughout the five boroughs." Jason Bordainick, Managing Partner, Hudson Valley Property Group.
Financing was provided by the City of New York, including the New York City Housing Development Corporation and the New York City Department of Housing Preservation and Development, in addition to an equity investment provided by Belveron Partners and the developers Hudson Valley Property Group and Phoenix Realty Group. More specifically, Keith Plaza and Kelly Towers were financed by approximately $40 million in tax-exempt recycled bonds and an additional $7.7 million secured by 236 Mortgage Decoupling Interest Reduction Payments.
"PRG is proud of its longstanding commitment to affordable housing. In supply constrained markets like the New York City metro area, the preservation of existing properties is critical to meeting the city's needs for affordable housing," said Ron Orgel, Managing Director at PRG. "We are excited about the completion of this project and wish the residents many years of happiness in their new homes."
Keith Plaza, a 311-unit, 30 story building located at 2475 Southern Boulevard, and Kelly Towers, a 302-unit pair of 17-story buildings located across the street at 2375 and 2405 Southern Boulevard, are 99% occupied and provide homes for both low and moderate income working families and seniors. There is a lengthy waiting list to secure a unit at both of these properties.
Both properties are centrally located in a rapidly redeveloping area of the Bronx, near Fordham University, St. Barnabas Hospital, the Bronx Zoo and the New York Botanical Gardens. PRG and HVPG acquired the properties in December of 2015 with the intention of preserving them as affordable workforce housing for the long-term. The buildings were renovated over the over the course of 2016 and 2017.
"Today Keith Plaza joins nearly 25,000 affordable units nationwide renovated through HUD's Rental Assistance Demonstration, with nearly 10,000 of those located in New York State," said Mirza Orriols, HUD Deputy Regional Administrator for New York and New Jersey. "RAD has served as a lifeline for multifamily properties in need of refinance and repair, preserving long-term affordability and providing residents with the stable, quality housing we know is a gateway to opportunity."
The total development cost surpassed $88 million and the renovation cost exceeded $14 million. Key upgrades consisted of common area and unit renovations to improve resident comfort and safety. The common area renovations included extensive repairs to the parking garage, upgrades to the exterior landscaping and recreation areas, renovation of the lobby and building entrances, new flooring and painting in all common areas, a new trash compactor and a new security system. The unit renovations included new appliances, electrical fixtures, sinks, cabinets, and countertops in the kitchens, as well as new vanities, lavatories and GFI outlets in the bathrooms.  Each apartment also received new electrical panels and new door hardware. Significant energy efficiency enhancements were also included in the project scope such as improved heating systems and new lighting.
"The unwavering support of the multitude of New York agencies, Hudson Valley's brilliant structuring, and Phoenix's flawless execution; this was a herculean effort in which Belveron is fortunate to have invested." said Louis A. Harrison, Partner at Belveron.  "I am delighted to play a small part in improving residents' lives."