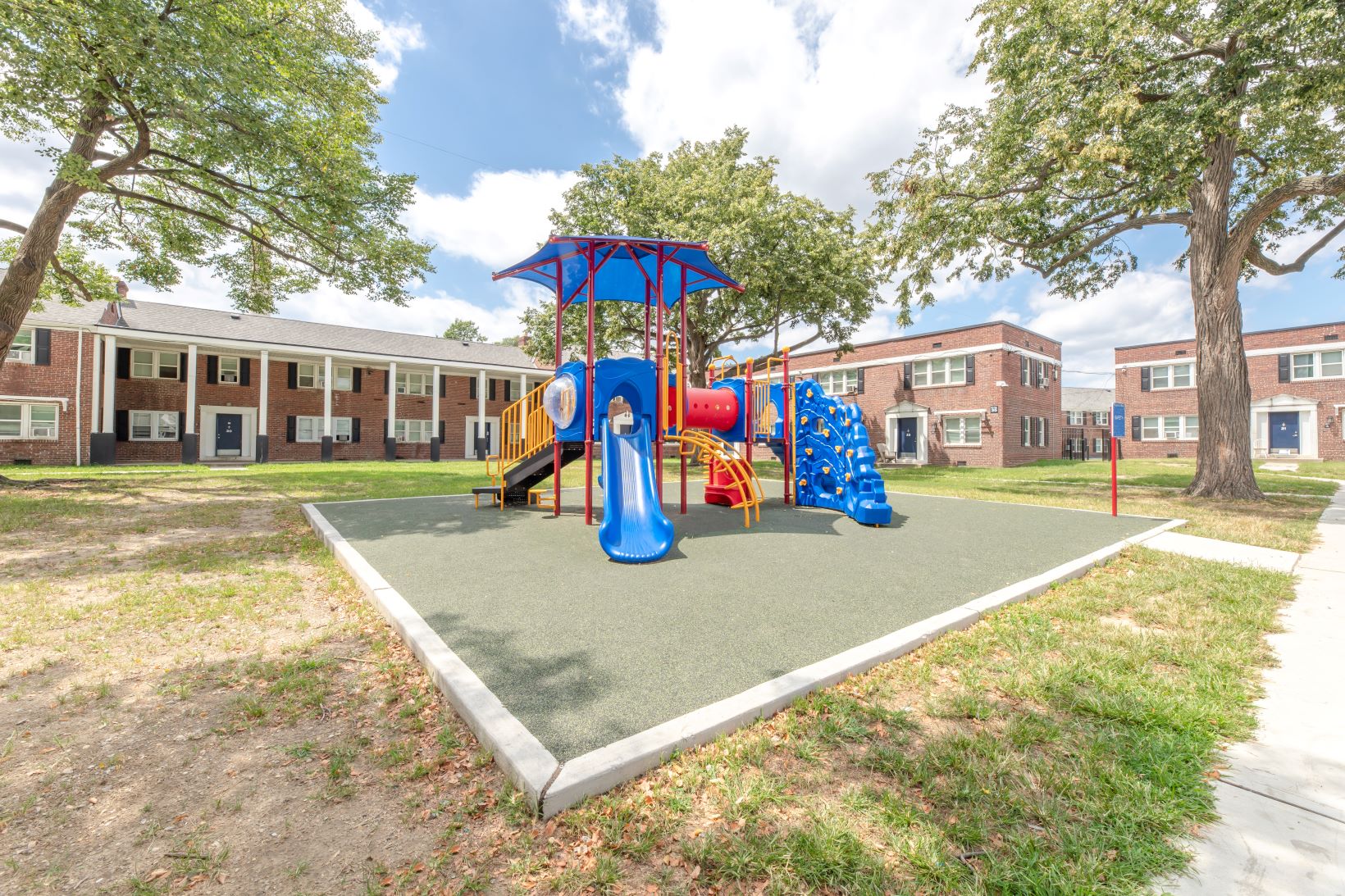 PROJECT SUMMARY:
Located at 2553 South 8th Street in Camden's Morgan Village near the Holtec Technology Campus, Community Meadows, formerly known as Crestbury Apartments, consists of 42 two-story buildings on 21.5 acres with a total of 391 dwelling units. The 391 units are comprised of 172 one-bedroom units and 219 two-bedroom units. Onsite amenities include a laundry building and parking. As part of the planned renovations, HVPG has added additional amenities including ADA accessible units and site access routes as well as an onsite playground.
FINANCING AND SUBSIDY:
To ensure the long-term affordability of the property, HVPG assumed the existing long-term HAP contract. The acquisition and substantial rehabilitation of Community Meadows was financed with tax exempt conduit bonds through the New Jersey Housing Mortgage Finance Agency, 4% Low Income Housing Tax Credits purchased by PNC, debt financing provided by R4, and bridge equity from PNC. The property is subject to LIHTC income restrictions through a thirty-year compliance period: tenants must qualify at 60% of Area Median Income (AMI) to reside at the property.
RESULTS:
Affordability of low-income housing supply preserved for decades to come with a long-term HUD project based Section 8 HAP contract and tax credit regulatory restrictions
A $25MM LIHTC rehab prioritizing building modernization, energy efficiency upgrades, elanced security, unit renovations and resident quality of life improvements
The City of Camden supported the project with a long-term PILOT Agreement
No displacement of residents
SCOPE OF WORK:
UNITS
New kitchen cabinetry, countertops, sinks, and appliances
New high efficiency LED lighting
ADA unit upgrades
Sensory impaired units
New unit doors and hardware
New low-flow toilets, showerheads & faucet aerators
Installation of "smart" thermostats
New flooring and painting
New smoke detectors
New unit signage
BUILDING
New building signage throughout
Downspout and gutter repair/replacement
Porch and vestibule upgrades
Brick and pointing repair
Addition of new security cameras and safety features including access controls and remote monitoring of cameras
SITE 
Site and building mounted high-efficiency LED light fixtures
Landscaping including new plantings, proper grading at building, dead tree removal and tree trimming, etc.
Asphalt and concrete repair/replacement
Creation of an accessible route
Installation of a new playground
New perimeter and interior fencing with access control
Sanitary/storm water repairs
Demolish and replace pump station
COMMON AREAS
Fully renovated and ADA accessible management office
Laundry building exterior improvements and made ADA accessible