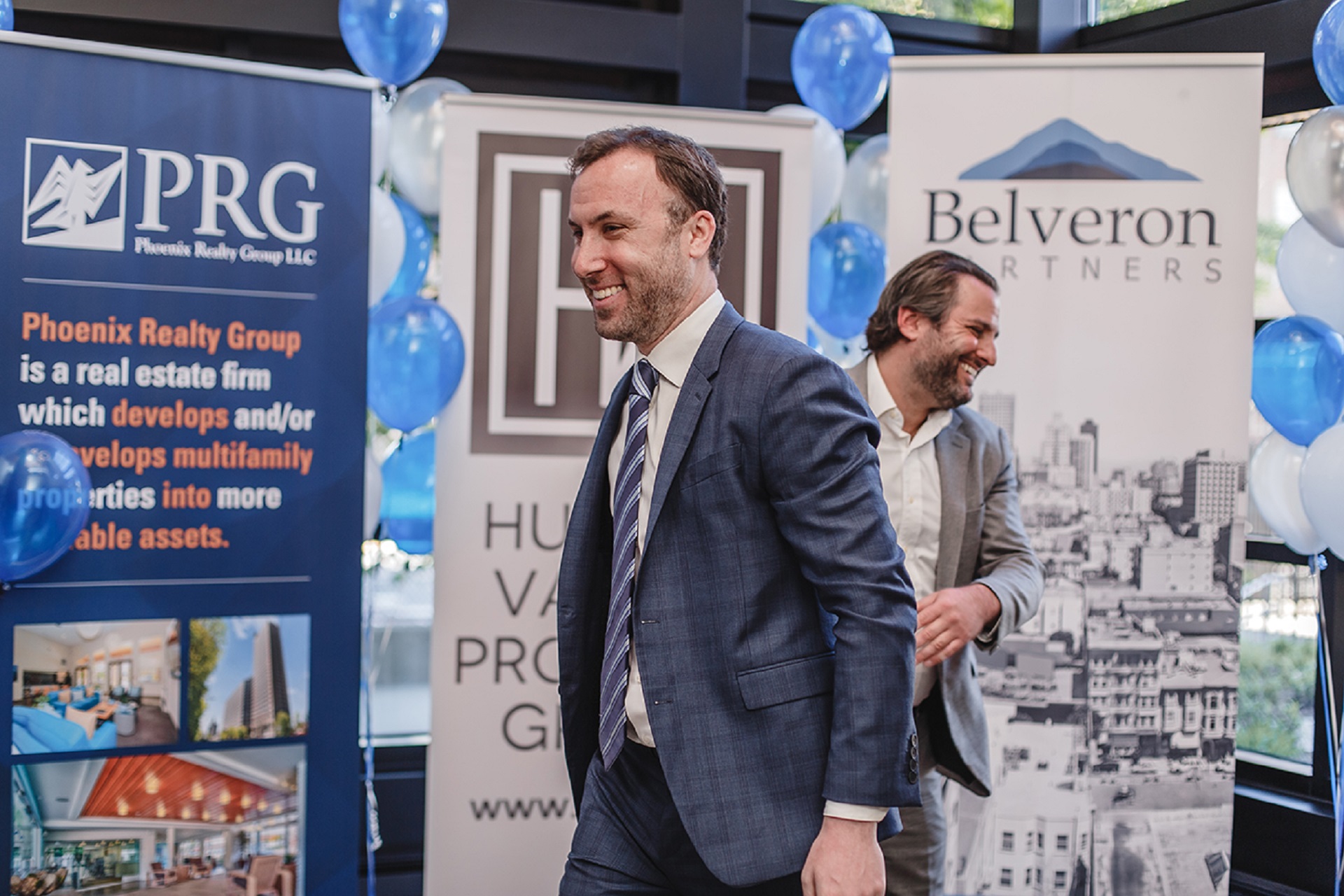 March 17, 2017 – Caroline Newman – This year, University of Virginia alumnus Jason Bordainick's company, Hudson Valley Property Group, has rescued more than 2,500 affordable housing units from the chopping block and made them more livable and sustainable than ever, while still remaining affordable to the current tenants.
Affordable housing is a growing problem in the United States. One recent report from U.S. Sen. Maria Cantwell, a member of the Senate Finance Committee, found that a dramatic increase in renters, a 13 percent decline in existing affordable housing units and stagnant wage growth have caused the demand for affordable housing to outstrip supply.
Bordainick, who graduated from UVA's McIntire School of Commerce in 2002, hopes that his company can provide a for-profit solution to that problem. He co-founded the company in 2010 with his childhood friend, Andrew Cavaluzzi. Their first project turned around nine affordable housing units in Newburgh, New York, about an hour from their hometown, and gave the pair a taste of what it was like to tangibly improve someone's living situation.
"It turned out to be a good investment, and we got to directly see how our work changed the lives of the people living there," said Bordainick, who in 2016 was named one of six top young leaders in the industry by Affordable Housing Finance. "We realized that we could replicate that success and grow a firm dedicated to the preservation of affordable housing."
This is not Bordainick's first venture into real estate. As an undergraduate, he started a student housing website that has now expanded to serve more than 2 million students at 100 universities, including UVA.
"I actually started my career as an entrepreneur at UVA," Bordainick said. "I was recruited as a track athlete, but had an injury that curtailed my track career. So I put the time I had been putting into a varsity sport into submitting an idea for a business plan competition at McIntire."
Bordainick is still on the board of that company, now called Off Campus Partners and run by fellow alumna Trina Jones and her father, Duke Jones. However, he devotes the bulk of his attention to Hudson Valley Property Group, which now invests in 16 affordable housing complexes throughout the East Coast.
For each project, Bordainick and his team work with current owners – usually either private real estate developers or non-profit organizations and churches that have struggled to finance the properties – to refinance and remodel.
Typically, current tenants remain in the units, as the company strives to maintain affordable rental rates and instead uses operating cost savings, energy efficiencies and new funding sources to finance the turnaround and operate in the black. On average, low-income residents pay no more than 30 percent of their income toward rent.
"We use a public-private financing model and try to figure out how we can lessen the burden on local, state and federal agencies and attract new capital," Bordainick said.
Often, that means seeking out little-known programs, such as a tax credit program requiring banks to invest in communities where they have branches.
"In that space alone, there are billions of dollars that could be invested, and we have developed those relationships and been creative in connecting those dots," he said. "We are also attracting high-net-worth individuals and companies as investors, often people who have not invested in this space before."
In addition to stabilizing a property's finances, Bordainick and his team partner with local architecture and design firms to rehabilitate the physical space and tailor the units to residents' needs. Many of the properties are intended for senior citizens and have services and spaces specifically designed to accommodate their needs. Others are home to families for whom English is a second language and include bilingual features and education spaces. All of the properties are held to high design standards and incorporate sustainability and green energy strategies to maximize the long-term potential of the site.
"When you see a finished HVPG property, you won't be able to tell that it is 'affordable housing,'" he said. "It's just a nice place to live – clean, bright and safe. We won't take on a project if we don't think we can make it somewhere we would be proud to have our parents or grandparents live, or live there ourselves."
Bordainick said seeing the residents' reactions is the best part of the work.
"Often they are nervous when we first come on board, worried about what we might change or if they will have to move," Bordainick said. "We try to make that process as painless as possible, and in the end, they love it. It lifts their mood and we've noticed more interaction among residents, as well as very emotional reactions from sons or daughters who see where their senior parent will be living."
He believes that the public-private financing model his company practices is the future of affordable housing in the United States.
"In the public sector, budgets are tight. Private capital can help bridge that gap, not only leading to better-quality housing, but also creating local jobs," he said. "People are spending so much of their money on rent and it keeps them from spending money on other things like health care or education. By making these projects more investable and attracting private capital, we are offering one for-profit solution to this social problem."